Add a new Live event and registration page
In this article we'll show you how to add/create a new Live event and it's corresponding promo & registration page.
Step 1: Go to LIVES and click the orange
+ LIVE

button

Step 2: Fill in the "DETAILS" section
We go through this tab section by section…
In this top section you'll find:
Public event page: This is the URL you can use to promote your event and get people registering. Simply click the "Copy" button to quickly and easily grab this link.
Event status: You have three statuses to choose from:

Draft – not viewable
Published – can be shared and viewed
Closed – event promo and registration page is still published, however the registration section is replaced by a note saying the event is now "Closed" and cannot accept more registrants
In this next section you'll be adding details about your event, here you'll find:
Event Title
Event Subtitle
URL to join event – this is the link you want your leads directed to at the time of your event (e.g. your Zoom link, Facebook page, etc)
Payment – here you can choose if the event is 'FREE to join' (which will display a big "FREE" label on your page) or 'Payment Required' (No label displayed on page). NOTE: For any events that require payment you must arrange payments outside of Lives2Leads with any system of your choice
Registration – there are 3 options here…

Registration Optional – connection details will be displayed publicly on your event pages
Registration Required – details are hidden and will be sent to your leads via email as soon as they register
Approval Required – details are hidden and leads must be manually approved by you before they can access your event

▶ NOTE: Learn how to use the different Registration options to add a huge layer of extra security to your events AND to even use Lives2Leads for your PAID events!


Date
Time – in your local time zone
YouTube preview video – if you have a preview of your event you want to share on your event pages, simply include the url of the youtube video you'd like to use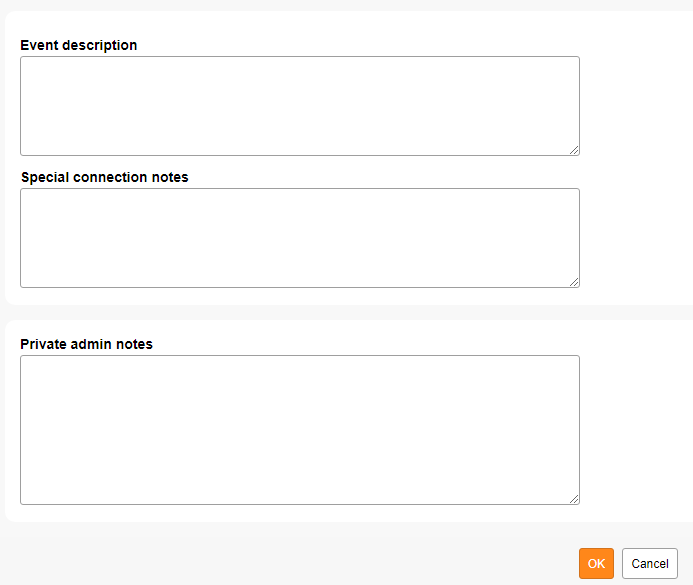 In this last section you have…
Event description – Here you can include a longer form description of your event. By default, on your event page, only the first line of the description will show and visitors will have a "more" button that expands the section to show the full details.
Special connection notes – If you have any special notes you feel are important to include along with the link to join your event to help guide your leads on how to join (for example, a password to join) this is a great place for it. NOTE: when applicable, these notes are not visible to leads until they've registered or are approved.
Private admin notes – These notes are just for you! They will never be seen by your leads.
Step 3: Click "OK" to save your changes
You may have noticed that at the top of your Live Event Editor there are two more tabs: "LEADS" and "EMAIL".
Click here to learn more about the LEADS tab
https://lives2leads.com/wp-content/uploads/2020/05/L2L-Logo-horiz-lrg-v2__340x74-300x65.png
0
0
admin
https://lives2leads.com/wp-content/uploads/2020/05/L2L-Logo-horiz-lrg-v2__340x74-300x65.png
admin
2020-06-08 14:54:11
2020-06-11 10:43:50
Add a new Live event and registration page